Differential Interference Contrast (DIC)

Phase contrast and differential interference contrast (DIC) should be considered as complementary (rather than competing) techniques, and employed together to fully investigate specimen optical properties, dynamics, and morphology. In many cases, each technique will reveal specific details about a particular specimen that is not apparent from observing images captured by other methods. The wide variety of images presented in this gallery are derived from both thick and thin transparent specimens, as well as specimens that have inherent contrast originating from synthetic dyes (stains) or natural pigments.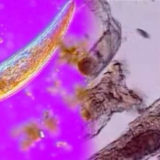 Pond Life
Observe the activities of a wide variety of microscopic organisms captured in a typical North Florida pond. Included are nematodes, protozoans, annelids, crustaceans, dipterans, coelenterates, gastrotrichs, rotifers, and tardigrades.