Author Spotlight: Michael Davidson
May 02, 2016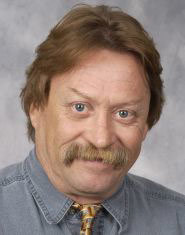 Nikon MicroscopyU was started in 2001 as a joint collaboration between Michael Davidson, Florida State University and Nikon to help further education in microscopy. Its widely known that Mr. Davidson, who was based at Florida State, was a collaborator on the MicroscopyU website, but perhaps lesser known is the extent to which he contributed to this site and its growth.
Known for his military style discipline, both for himself and for those who worked with him, he created the content and the website that is MicroscopyU.
Mike's work day typically started around 4am when he would go in to his lab and begin writing content. At around 8 when his students would arrive, he would begin the task of directing his team, made up of a small select group of students with graphic design abilities, web coding strengths, and microscopy backgrounds (both sample prep and imaging) to create vast amounts of content including tutorials, articles and image galleries for the site.
Nikon MicroscopyU grew steadily over the years and even during the more turbulent years when .com development companies were failing, Mike and his team never missed a beat. The site remained the leading source of information and education and imagery for microscopy, which we enjoy today.
Two years ago Mike was diagnosed with health issues and decided to move in to retirement. He handed the collaboration over entirely to Nikon who re enlisted a select team at FSU and embarked on a journey to regenerate the site. The vital content our users have grown to expect has been updated and a new content management system and responsive design provides a more seamless viewing experience on a wide array of devices including mobile platforms.
Look for the site to grow even more in the coming months as we take advantage of the updated technology and a more robust content team (it takes a team to replace Mike) to help provide updated content and capabilities.
We lost Mike late in 2015 and are proud to have the privilege to carry on Mike's legacy of education in microscopy. This site is dedicated to him.

Eric S. Flem
Communications & CRM Manager
Nikon Instruments Inc.