Nikon's Museum of Microscopy
C1 Series Confocal
( 2001 )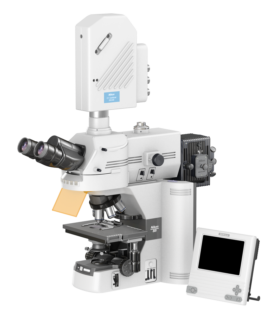 Nikon C1 series of microscopes were first introduced in late 2001. This was the beginning of a revolutionary line of confocal microscopes that would span years and help bring Confocal microscopy to labs all over the world.
This system, combined with Nikon's flagship TE2000 inverted microscope, boasted an ultra-compact, state of the art multi-channel laser confocal with an easy to use software interface all at a price point that was affordable for the individual research laboratory.
The next generation of this product was introduced in 2004 with the C1si and the C1 Plus Confocal Microscopes, which further incorporated the latest technology at the time, including a modular, lightweight design, with higher resolution and more image analysis than had been available in prior models.
The C1si model boasted true spectral imaging, and capability to accommodate many of the latest digital photomicrographic techniques.
The C1 Plus was faster and offered better laser illumination at a price point that had been previously unheard of for a system with this capability.
---
---