Nikon's Museum of Microscopy
SMZ-U Stereoscopic Zoom Microscope
( Circa early 1990s )
In developing the SMZ-U, Nikon aimed to produce a stereo optical system that could overcome the limitations of the parallel beam path stereomicroscope, while still delivering high quality results. Higher resolution and a wider zoom range guaranteed high quality images at any magnification, while maintaining the natural shape and color of the specimen. This model, which was the most advanced stereoscopic microscope of the period, was first produced in the early 1990s.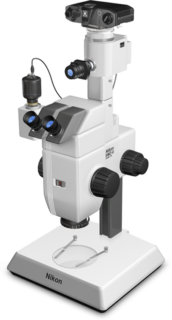 A wide variety of accessories are available for the microscope, which allow the user to customize the instrument for different applications. One of the first ergonomically friendly microscopes, the SMZ-U had a low eye-level design feature that reduces fatigue over long hours of observation. A variable iris diaphragm, conveniently positioned on the front of the body tube, offered flexible control for depth of focus. In addition, a beam splitter is strategically positioned for attachment of a photographic system or TV camera with simultaneous viewing from each port. An aberration-free apochromat 1x objective tops off the superb objective lineup.
Objective lenses used in the SMZ-U are made of Nikon's specially patented Extra-low Dispersion (ED) glass and provide a high degree of compensation for distortion, surface irregularities, and chromatic aberrations. Nikon research scientists solved major curvature of field aberrations with the SMZ-U (a problem indigenous to stereomicroscopes) ensuring flat images at all magnification ranges. High numerical aperture objectives were capable of remarkably high resolution, even at the periphery of the image. The SMZ-U zoom produced a ratio of 10:1, covering a range of 0.75x to 7.5x, and reducing the need for frequent lens changes. Interchangeable objective lenses, offered in a magnification range of 0.5x to 2x, ensured wider magnification ranges and long working distances.
Today the SMZ-U is succeeded by a number of parallel optics type stereomicroscopes from Nikon.
---
---