Nikon's Museum of Microscopy
Nikon TMS Inverted Microscope
( Circa 1987 )
The Nikon TMS is a widely used inverted microscope that is found in tissue culture laboratories around the world. Although the more advanced Eclipse TE200 and TE300 models feature infinity-corrected optics, the TMS, which was first released in the mid-1980s, still produces high quality images that meet the critical needs of most biological and metallurgical research.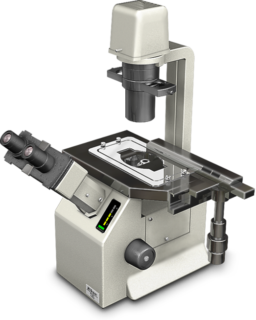 Successor to the Diaphot TMD, the Nikon TMS inverted microscope is simply built and shares a similar optical pathway to the earlier instrument, employing only one reflection surface in its main body. The revolving triple nosepiece of the TMS can accommodate a variety of objectives that contain lenses belonging to Nikon's CF series. Focusing of the instrument is achieved through manipulation of a sensitive focusing knob and a standard 20-watt halogen lamp provides critical illumination. Accessories for the Nikon TMS include two extra-long working distance condensers, a phase slider and rings, and an attachable mechanical stage with a choice of stage plate adapters. Also, for inspection of large specimens, the illuminator support stand may be removed in order that an external light source, such as a flood lamp, may be utilized instead.
Today the Nikon TMS is succeeded by the Eclipse Ts2R inverted microscope for mid-range research and tissue culture applications.
---
---