Nikon's Museum of Microscopy
Nikon's First Microscope
( Circa mid 1920s )
Nikon, one of the world's largest manufacturers of microscopes and cameras, made this microscope in the early 1900s. The compound monocular microscope is fashioned from brass and has a black-enameled horseshoe base.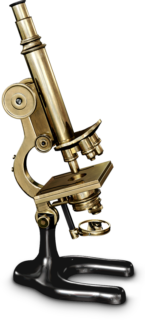 The drawing illustrated above was made from a photograph of the original microscope in Nikon's archives. The revolving nosepiece holds three objectives that are interchangeable with standard screw threads. The flat, square stage is fixed to the limb with a plate attachment. A substage Abbe condenser collects light from a double mirror mounted on a tailpiece. The limb is connected to the base with a pivot mechanism and contains the rackwork for the fine and coarse focus adjustments.
Its legacy continues today with the vast variety of microscope products and services offered by Nikon.
---
---