Nikon's Museum of Microscopy
Eclipse TE2000 Inverted Microscope
( 2000 )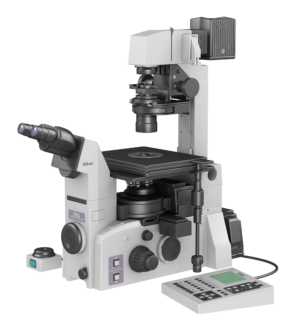 In early 2000, Nikon introduced their flagship inverted microscope system, the TE2000. This was the first in the now world-famous Eclipse inverted series of microscopes, which took advantage of the breakthrough CFI60 Infinity Optical System.
The TE2000 was developed as a full system with 3 models, the S, the U and the E. All of the models were designed to take advantage of the quickly growing digital imaging applications surrounding scientific imaging. These systems were designed with multiple ports so additional equipment could be easily tethered to increase capabilities of the system. Further, the system was equipped with a new technology that would reduce Signal to Noise ratios, aptly called the Noise Terminator, which provided a state of the art solution for visual artifact, which had become a considerable issue as digital technology became more advanced.
The "top of the line" TE2000 E was a full research scope capable of a vast range of capabilities and techniques including motorized focusing and a vibration free optical path, which made it an excellent solution for 3D and Deconvolution and other cutting edge imaging application.
The Eclipse TE2000 U was the universal microscope which added 4 output ports to give it maximum flexibility to upgrade the system to a large range of techniques from simple microscopy to more advanced digital and fluorescent techniques.
The TE2000 S was a standard microscope. It could be configured for a range of applications but mainly for those that did not need the ability to switch applications frequently. it was a cost effective ideal solution for more basic uses.
This microscope system represented a vast leap forward in microscope technology and marked the beginning of the flagship Eclipse series of microscopes that are leading the industry in technology and market share to this day.
The most current successor of the Eclipse TE2000 is the Nikon Eclipse Ti2 inverted microscope.
---
---