Nikon's Museum of Microscopy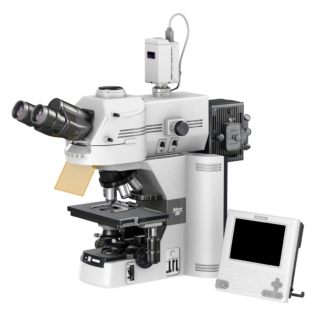 In response to Nikon's ever-growing prominence in the cutting-edge research microscopy markets, Nikon introduced its all-new lineup of microscopes, the i-series. The 80i was one of the first in a family of very commercially successful upright microscopes that would help define the growth of the digital era for the scientific community.
The 80i was introduced in November of 2003 along with a number of other upright microscope options for the clinical market, the 50i and 55i. The 80i was designed as a bridge between the clinical and research markets, making it an ideal tool for either discipline (depending on how it was configured). It could be used easily for clinical applications; however, with its new modular design, it could be expanded and configured for more sophisticated bioresearch techniques.
This new system was designed to deliver optimum modularity and versatility while being designed entirely with digital imaging and techniques in mind. This microscope featured the DIH digital head, which was designed for Epi Fluorescence and had ports for dedicated digital cameras, confocal and spectral detectors. It also incorporated Nikon's new wide spectrum UV Corrected optics with expanded spectral capabilities in the UV range. It was the first to come equipped with Nikon's Noise Termination technology, which helped deliver cleaner digital images than ever before.
This scope was replaced in 2011 by the Eclipse Ni upright microscope line.
---
---